My family, the Baths, came to Laramie in the spring of 1868. The railroad came in the fall of 1868 and the Territory of Wyoming was formed then. My ancestors built the first wood framed building in Laramie in 1869. They moved to the Little Laramie Valley and started raising cattle and horses.
The Bath Brothers had a strong and long tradition of raising good using horses and reputation cattle. I have tried to carry on the same principles that have been handed down for four generations: Good minds, speed, bone, cow and athletic ability and easy keepers.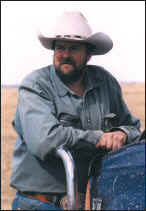 In the 1930's, they raised remount horses for the government. In the late 30's they started raising Quarter Horses and became Quarter Horse members in the early 40's. By using their original membership #7965 as our Lifetime AQHA number, my wife Laurie and I continue the tradition of over 130 years of raising horses on the same ranch.
Our ranch is one of the oldest working ranches in Wyoming and our brand is also one of the oldest recorded in the state. The horses are raised in big, open areas, exposed to all the elements of nature. These horses aren't pampered; they grow up running in large bands, side-by-side with cows and antelope. We use the horses we raise and we feel they offer the genetic strength to go on and do anything you please. Our stallion battery includes six grandsons of Blue Valentine. We are ranchers raisin' good horses.
My family...Laurie, Jamie, Ashley, Kelsey...and I would like to thank our partners, customers and friends for all of their continuing support. And a big thanks to Justin and Lee.
~Randy Dunn